In Higher Education, it is not uncommon for students to balance their studies with a full or part-time job. Many students enrolled in the programs of the University of Connecticut's Department of Educational Leadership (EDLR) are not only students, but working professionals in the field. The "Student-Professionals" series will highlight these hard-working student-professionals and how they balance their responsibilities.  This feature focuses on a student-professional in the UCAPP program.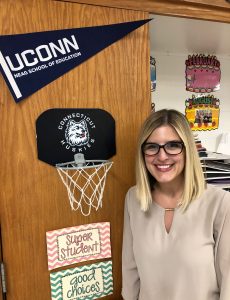 Bethany Rataic, a second year student in University of Connecticut Administrator Preparation Program, manages her academic work with her day-job in a different type of scholastic setting – as a first grade teacher at Lake Garda Elementary School in Burlington, CT where she has taught for the past 8 years.
She applied to UCAPP for the same reason that she wanted to pursue a career in teaching; because she loves working with kids and wanted to have a positive impact on their educational development. Through the UCAPP program, she is hoping to broaden her perspective and prepare herself to have a greater impact on the lives of more students as an administrator.
Rataic's current principal, Stefanie Anderson, has been a great mentor and support system in her decision to enter the UCAPP program and pursue her 092 certification. When Rataic first considered this career step she was concerned that it would take her attention away from her classroom, but Anderson reassured her of her ability and reminded her of her mission as an educator – to inspire and empower greater learning in the lives of as many kids as possible.
Balancing a career as an educator with the responsibilities as a student of higher education is a challenge as both demand a large time commitment and mental capacity. Rataic explains that in order not to over dedicate herself to one role or the other, she has to hold herself accountable and continuously look at her priority-setting. As UCAPP is only a 2-year program, it has gone by fast and she wants to ensure that she is getting the most out of all it has to offer without sacrificing her work-quality in the classroom.
Rataic attributes her success as a student-professional to a commitment to her core values. She is dedicated to her goals and sees no other option than to persevere through challenge. In high school, Rataic's guidance counselor told her that she would never get into UConn. Today, she holds multiple degrees from UConn including a B.A. in Human Development and Family Studies, a B.S. in Elementary Education and a M.S. in Curriculum and Instruction in addition to her current enrollment in the UCAPP Program.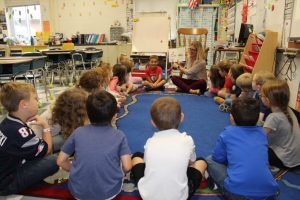 Rataic has not only taken advantage of opportunities in her career, like studying and working in London as part of her Integrated Bachelor's/Master's degree, but she's turned challenges into growth opportunities. She did not get into UConn, the Neag School nor UCAPP in the traditional admissions cycle, but she never let that rejection deter her from her goals. She is determined and quick to ask for feedback, including talking to Richard Gonzales, UCAPP Administrator, concerning the rejection of her application. This initiative and eagerness was recognized, and she was admitted into the program. Her commitment to growth and her end-goal has been a key factor in her success, and an asset as she balances the challenges as a student and a professional.
To other student-professionals, Rataic encourages them to self-reflect and recognize that there are going to be challenges. She explains, "Rely on your support system to help and motivate you, and be confident in your ability to meet these challenges."